About Us: The History of Impact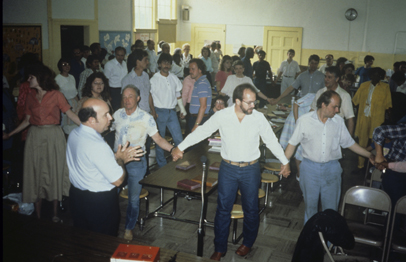 In 1986 Charlie Middlebrook, Ron Sellers, and Doug Williams, three preachers from the Houston area, began to plan for a new ministry to the city of Houston. They were without experience in this area, without existing models among Churches of Christ and without monetary support. On the second Sunday morning of 1987, sixty-seven very apprehensive participants gathered at Lee Elementary School, just north of downtown, for the first worship service. They sang, they worshipped, they preached, and they shared a meal. People came from the suburbs, from other parts of Houston and from shelters and neighborhoods nearby. 

The vision spread quickly and Impact continued to grow. Alejandro Arango joined the staff in the early years to work with the Spanish-speaking segment of the congregation, as did Calvin Henry as a bilingual minister (a position that continues to this day). 
During the next ten years they would average one move per year as they outgrew facilities.  They met in city parks, a YMCA, a declining housing project close to downtown and a warehouse on Washington Ave. They rented offices on Studemont for several years and started a food and clothing distribution center in a small store front on White Oak Dr.  Their present property was purchased in 1992, where they met for about three years with no heating or air-conditioning while awaiting funding for conversion from a warehouse to a place of worship.  Their current Distribution Center was constructed in 1993 and their Education Building completed in 1999, just in time for the summer programs that year.  Impact inducted Charlie, Doug, and Ron as elders in 1999, along with Harvey Davis, Doug Brown, and Dimas Velasquez.

Impact has had a worldwide imprint. Thousands of interns have come over the years to work with Houston's inner-city children during the summer, and many of those interns have stayed for longer periods of service and become members of Impact. Hundreds of youth groups have come both in the summers and on spring breaks to serve Houston's inner city and be inspired to serve in their own communities. 
Former Impact workers and friends have been influenced to begin urban churches and ministries throughout the country, in places like Portland and New York City. Several now-independent and flourishing organizations that focus on underprivileged children have spawned from Impact, including Small Steps, a Christian pre-K program; the Youth Development Center, a Christian after-school literacy program, and Camp of the Hills, an urban-focused church camp in Texas' hill country.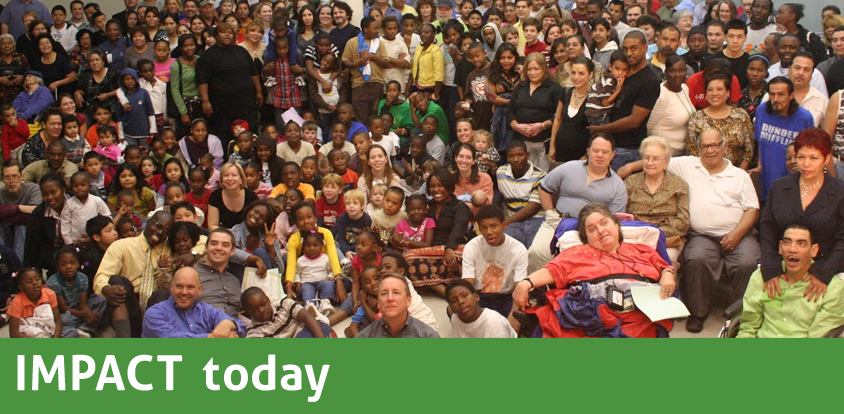 Today finds Impact continuing to do many of the things it has become known for. Impact still invests heavily in urban Houston's children and youth, with summer programs that reach out to 400 children and weekly Bible classes, small groups and activities throughout the year. Impact's Distribution Center has seen sky-rocketing demand in recent years and has grown in its ability to meet those needs. Impact still provides much-needed services to the homeless, and has recently added days that it provides those services. 
Impact still has a strong presence in under-privileged communities throughout Houston, primarily through weekly Bible Studies. Impact has also begun several new efforts and ministries, including a residential drug and alcohol recovery program, a flourishing college-age ministry, and a Hispanic women's ministry.

What a ride! Despite all this we truly feel that in many ways we are still learning, growing, and getting started in what God would have us to be. We are looking forward to the future, with your support and with God as our guide.