Impact Distribution Center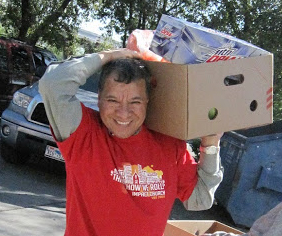 "I was hungry and you gave me something to eat."
Matthew 25:35
Impact Distribution Center is open Monday through Thursday to provide food and clothing and has furniture and household goods for special needs. Impact's main building is also open Monday through Thursday to provide a hot meal, shower and laundry facilities, a bible study, and relief from the outdoors for those who need it. We are often the first contact people have with the Impact Church and our staff and volunteers strive to maintain their dignity and to show them the spirit of Christ in us.
The Distribution Center has seen people's needs grow in our current economy. While we served 67,000 meals in 2007, in 2011 we were able to give out 483,000 meals (over a million pounds of food)! In 2007 we gave out 84 bags of food a week, five years later we are averaging 250! The number of families needing help is growing larger as God is providing the food, clothing, furniture and goods we need. We depend on donations from over forty churches & individuals to meet those needs.
This year through careful stewardship we have served three times as many people with a 20% increase in spending. The relationship we have built with other partners in the community such as the Houston Food Bank and Feed the Children has been a blessing to all. We are also working to increase our storage capacity to help us function efficiently and safely. In addition, each person who comes for food is offered a bible study and about 95% of our recipients take advantage of that offer. What a blessing!
How It All Started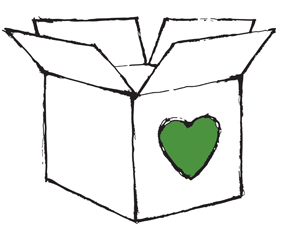 The Impact Church of Christ established a formal distribution program in the summer of 1989. It was staffed by volunteers, many of which are still involved in some way or another with the work at Impact. They all believed strongly in the idea and were willing to learn "in the trenches." This method proved advantageous because it helped the workers assess and solve problems quickly and economically.
The Distribution Center activity grew beyond expectations as the news of the presence of free clothing and food rapidly spread in the area around Washington Avenue. Food, clothing, and financial donations from area churches of Christ as well as donations from various supermarkets and other non-profit organizations provided the needed items and with much excitement - a new work began!
In time, a permanent facility was built on Impact property. It is a fine, large building and the ministry and the program took on a more organized appearance. Computer records of recipients, registration cards and rotating volunteers helped make this an efficient ministry. Things were running smoothly and the food and clothing needs of the neighborhood were being met. When the requests for services sky-rocketed, God blessed Impact with the wherewithal to meet those demands. In the year 2009, the Center gave away over 800,000 lbs of food (an equivalent of 363,000 meals) compared to 300,000 lbs in 2008. The faultering economy increased the need for more help. Already, requests for assistance in 2010 are running ahead of 2009. The Foundation is prepared to help solve some of the needs at the Center. The purchase of a walk-in cooler/freezer is include in our Planned Projects. Although the cooler will solve the immediate issue of being able to buy and store perishable foods, it increases the cost of electricity significantly. Impact does not have the money to budget for that monthly expense. Would you help them with a monthly commitment?
The Distribution Center is open three days a week from 8:30 am until 10:30 am. A Thursday night time is now available and is just for single mothers, most of whom work. During those periods, about 200 people a week are helped. Much of the remainder of each week is devoted to gathering and preparing for another distribution period. Each person is invited to attend a Bible study and many accept. Others attend a Bible class or worship service just to see "who these people are."
The Distribution Center is located at 1712 Depelchin Street, Houston, TX, 77007, and is open to receive your donations from 6:30 am until 2:30 pm, Monday through Thursday. Any person interested in joining with the 42 current weekly volunteers, please call 713-862-7011. Ask for David Beegle.
Testimonials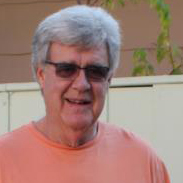 "Let me share one person's story. I'll call her Maria to protect her privacy. Maria has a small business of her own and cleans houses to provide for her large family.
She is also a Distribution Center volunteer! Maria takes food to 40 disabled families a month. When dropping off the food, she often changes the sheets on their beds for them! What a joy to know and work with this dedicated servant for the Lord!
There are so many stories of those we serve with your help. God bless you as you help us help others."

- David Beegle, Director